Working Remotely: Tips and Suggestions for First-Timers
With the exponential spread of COVID-19 (also known as coronavirus), most companies have opted for their employees to work remotely. This is one of the most effective ways to reduce the risk of infection from coming into contact with people. However, remote work comes with its own challenges.
If this is your first time working from home, you will be required to deliver the service optimally. Nonetheless,  Without the proper knowledge and preparation, this can easily become a challenge and impact your work life negatively. Since there's no definitive answer for how long this self-quarantine should last, learning useful techniques and tips will get you far in the long run.
This article will introduce you to common issues and answer frequently asked questions related to remote working. Even if you've done this before, we recommend giving this piece a read — you can never go wrong by looking for new ways to improve your productivity.
The biggest challenge: Isolation and communication
One of the biggest challenges you'll face when working remotely is lack of direct communication with your team, coworkers, and managers. As you can no longer simply walk over to their desk or call them over to yours, you need to find alternative ways to reach them online.
To help you overcome this obstacle and maintain relationships with colleagues, make sure you're all utilizing communication tools. There are tons of websites and applications that help teams work together even with hundreds of miles of distance between the members.
Here are some of our top picks for applications, websites, and services that will guarantee efficient workflow and great communication for your team.
Talking and online conferences
There are dozens of applications that offer you the ability to communicate with your peers, however, is a professional environment you need professional solutions. Our top picks in this category are Skype and Discord.
Microsoft's Skype needs no introduction. It has been known as an extremely reliable tool for businesses to enhance communication, and even hold online conferences. With the ability to chat in groups, send out direct messages privately, share your computer screen, and even video call, it has everything you need to successfully communicate with your coworkers.
Skype is available to download for free on all platforms, including mobile. For more advanced users, the Skype for Business branch supplies you with even more features and fewer limitations which is available through Office 365.
On the other hand, Discord is a fairly new application in the business world. Winning over the hearts of younger users, Discord started out as an alternative software to replace both Skype and TeamSpeak. It mainly focuses on organized communication, both individually, in groups, and in so-called servers.
Setting up your own Discord server is extremely easy, and inviting your colleagues takes no more than two clicks. Set up different spaces for topics, create voice call channels, give out roles and permissions, share files, Livestream your computer, and even take advantage of automation via bots.
Discord is available to download for free, and accessible from your web browser at www.discordapp.com. As of 12/03, the developers have temporarily increased the user limit of Livestream rooms from 10 to 50 in light of COVID-19, making it easier for large groups to work together.
Read: Discord Stuck and Won't Open on Windows? Here's How to Fix It

Planning and organizing
Working collaboratively and staying updated on what your colleagues are up to can make or break a project for every member of your organization or group. Without the necessary tools to send and receive information, every remote worker is at risk of falling behind.
Luckily, tons of options are available for people looking to put together comprehensive and interactive boards, share work updates, and coordinate the next step in a project. Our top picks for this category are Slack and Trello.
Both of these services are web-based and offer a free trial as well as premium plans for more committed users.
File sharing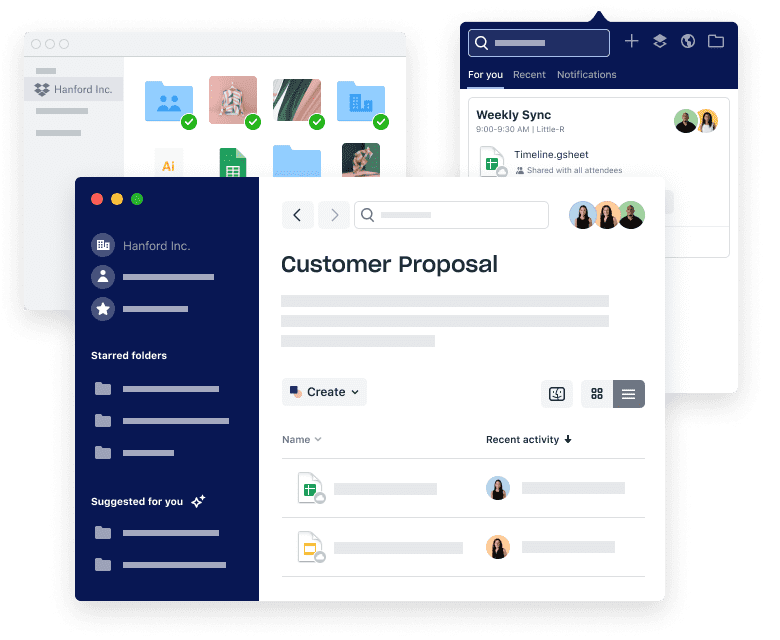 While you can share small files like images via the applications aforementioned, larger things usually cause you to run into obstacles. To eliminate this, we recommend investing some time into Google Drive and Dropbox.
Both of these services are free to use up until a certain amount of storage has been filled, where you can either create a new account or purchase further space. What makes them our picks is the effortless synchronization between devices and users with cloud-based solutions. Definitely a must-have.
Building a structured schedule
When spending most of your time working alone, you need to maintain a healthy and structured schedule. Many people fail at the very beginning of this — you might think it's okay to stay in your comfortable pajamas all day, bring a laptop to bed, and relax while working. Most experts think otherwise.
Although it definitely sounds appealing at first, following an unorganized schedule will most likely impact your performance. This is why we suggest you get up every morning as if you were heading to the office. Grab some breakfast, take a shower, and dress up before sitting down in front of your desk and beginning to work. It's advised not to work in the same space you rest in, so, your bed is a no-no.
If you work in an environment with frequent video calls, it's an advantage to have work clothes on as well. Accept incoming calls without hesitating or asking for an extra 5 minutes to get changed and look presentable.
Managing time and dealing with burnout
When working at home, it's easy to forget about the time and lose track of it. While this might seem like a benefit at first, it doesn't lead to any good outcome if you keep on forgetting to eat, isolate yourself from your loved ones, or stay stationary all day.
Remember to utilize gadgets such as alarms and notifications to get up from the computer, put your work aside for a minute and refresh yourself. While going out for a peaceful walk isn't necessarily the best option while COVID-19 is still threatening your safety, make sure to incorporate some light exercising into your day.
Many experts recommend simulating your breaks as if you're in the office. Have multiple smaller breaks, a longer lunch break, and sign off when your usual work hours end to maintain a productive schedule. All of this will help you reduce the risk of burning out and losing motivation to work from home.
Remember to stay safe
The most important thing to do at this time is to stay safe and reduce the risk of getting infected by COVID-19. Continue to practice hygiene, frequently and thoroughly wash your hands, and wear a mask when going outside for an extended amount of time.
If you feel like you have the symptoms associated with the coronavirus, don't hesitate to call your local doctor or hospital.
In avid to give you a clue on remote working, here are some of the tips that our team uses.
What is the company's onboarding process like? How do you help new recruits get to speed with the company culture?
"The onboarding process starts with 2 intense weeks of training and complete immersion in the actual work. We have found it to be the best possible to start to know your colleagues, by plunging people in deep and asking senior colleagues to provide support.
Result? New joiners feel supported and from day 1 they start to make great connections with people who support them.
With regard to the company culture, we have a video that explains Our 360 values and the playbook that translates it into the expectations. Every new joiner watches this with me when they come and we go through the playbook together.
Also bear in mind - the onboarding actually starts during the interview. As soon as I see a potential recruit I go through these things and I also show them the content of our last Company General Assembly.
So by the time the new joiner comes into the company he has already been exposed to all our cultural building blocks at least 3-4 times" ~ Julien
What do you like best about working from home/remotely?
"I'm an outcome-based person, so the first thing is to arrange my schedule to include things that would otherwise be inconvenient. For example, I can go to the laundromat or do my grocery shopping outside of peak hours. I guess the easiest way to sum this up is the flexibility of schedules"~ Aleida 
Do you use any special techniques or life hacks to stay focused when working remotely?
"Hmm, well it might seem easier than done. My job entails working with customers directly, either through our online chat, phone calls, emails or solving their problems remotely. So, my all-time hack is to create a rapport with clients when working remotely by explaining what I'm doing and keeping them informed about the whole process.   Some hacks that might be useful to you when working on a client's PC remotely, limit the apps on the screen so that you can focus on the issue. Besides, if the client is having some downloads, you can politely request them to pause the downloads in order to get the maximum bandwidth to work with." Said Joe.